I'm very excited to announce that I have been interviewed and my art is featured in issue #8-9 of Zámezí magazine! The magazine is a publication of the Centre for Mental Health Care Development in the Czech Republic; it is the magazine of the Literary Workshop at the School of Recovery. A huge thank you to Tomáš (AbelQuincey) for reaching out to me last year and taking so much care with this interview, I'm still shocked to be featured (and on the cover!) but incredibly honored. Please do check out previous issues of the magazine.
Click the image below to view the interview/feature in Czech. Scroll down to read the interview in English.
Sarah Mason and her Life Through Journals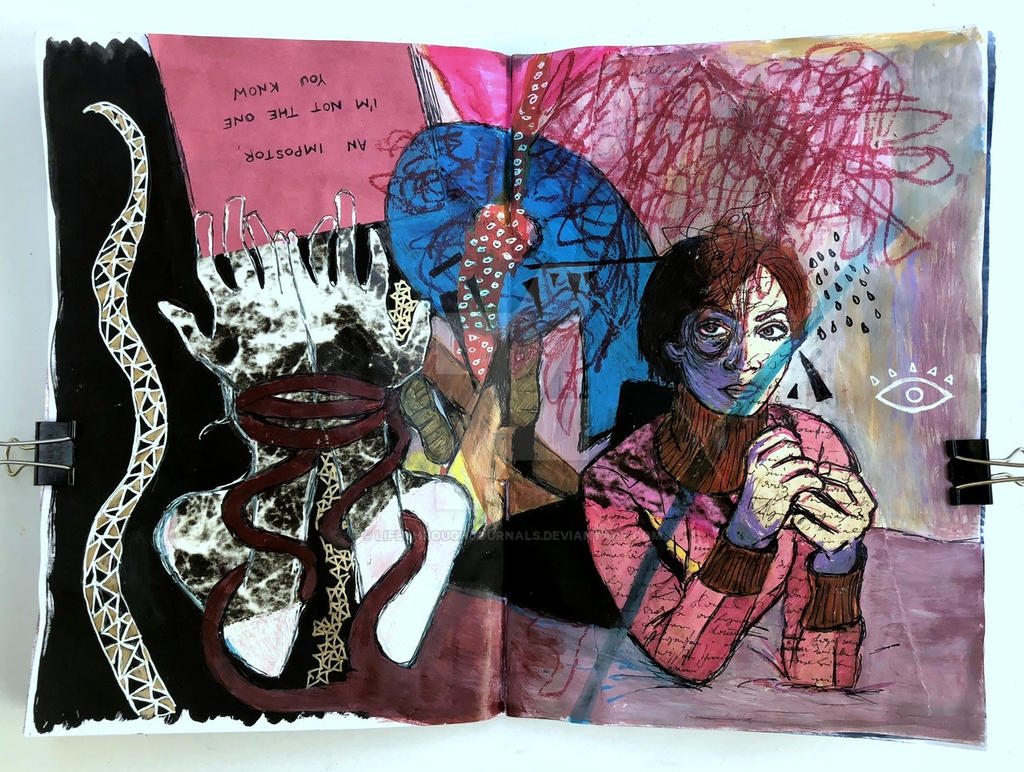 When you started to draw and paint?
It's difficult to pinpoint when I started drawing and painting because I loved making art as a child (as a lot of children do). However, somewhere in my mid-teens I convinced myself I was no good and there was no point in continuing, so there were a few years where I just gave up making art. I would say that I started making art consistently and (somewhat) seriously around 2010 when I discovered the concept of art journaling.
What is a driving idea behind "life through journals?" I perceive it as both very vivid spontaneous art and also engaged in some way.
I started keeping written journals in the year 2000 (aged 13) and continued through all of my teen years. When I was trying to find a creative outlet again, I came across a book called Journal Revolution: Rise Up and Create! by Karen Dinino and Linda Woods. I had doodled in my journals before, but I had never thought to replace the writing with visual art. The book invited me to "overthrow my inner critic's tyranny of fear and rules" and express myself in any way that I wanted – that really appealed to me. I started using art to journal about topics I was too afraid to write about and loved that I could create cryptic art that only I understood. "Life Through Journals" was a handle I started using in 2016 because I felt it was the most accurate way to describe the art I was making. You're right in perceiving it as spontaneous art and also engaged. It's engaged in the sense that the art is always documenting what is going on in my life or in my head at the time, and I sometimes plan what I want the piece to look like. However, most of the time the art is spontaneous. I find that even if I plan a piece in my head, it usually takes on a life of its own and ends up completely different to what I had envisioned. It also tends to uncover subconscious thoughts and feelings, so I find it very therapeutic!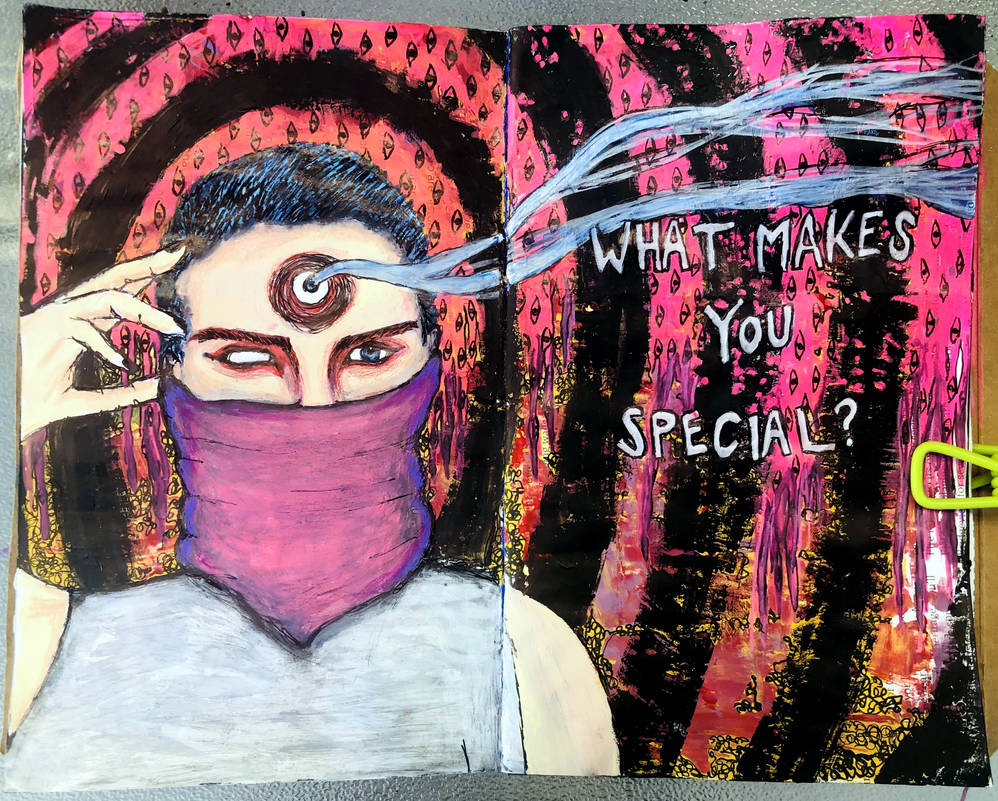 Do you think that subconscious feelings are important for the human being? For example to more understand his or her shadow personality. Do you communicate with your inner self by the act of creation?
Absolutely! A lot of my art journals reference my dreams or are specifically about dreams I've had, and I think they reveal a lot about myself and subconscious as I process them in the act of creation. It definitely feels like I'm communicating with my inner self in that way. I love the term "shadow personality" to describe the dark and unknown parts of ourselves – I'm constantly striving to tap into that. To quote Carl Jung, "Your vision will become clear only when you can look into your own heart. Who looks outside, dreams; who looks inside, awakes."
What are the current problems of our generation? Not only in the USA.
Where do I start?! Obviously, COVID-19 and the economic and social disruption it has caused is the one that immediately comes to mind. Other than that, the climate crisis, the spread of mass disinformation, racism and discrimination, and wealth inequality are the problems I worry about the most as a "millennial". Bear in mind I am a white British woman living in America, so I can't speak for everyone!
When did you move to the United States of America? Can you tell us the reasons for that?
I used to think it was a strange story, but I suppose it's becoming a more common one. I started talking to an American on social media, we met each other and fell in love. In 2014, I was very lucky to be accepted for a year-long internship in the city he lived in. We got married, and I've been living here ever since!
Wales is a small country but well known in the Czech republic. On the contrary most Czech people can't tell more than 10 states of USA, despite they are much bigger than European countries. What were the differences in culture you noticed?
That's so interesting that Wales is more well known in the Czech Republic than the US, but I can understand why. It was definitely a culture shock! I'm from a small town in Wales where most people know each other, you are friendly with your neighbors, and you will always see people you know when you are outside. I've lived in various areas around southern California and they are all so vast with huge populations; it's very rare that I see someone I know when I'm out shopping, for example. Generally, strangers are nice enough but not friendly like they are in Wales. There are pros and cons to both – living in a small town with everyone knowing your business can be very frustrating! But I do sometimes miss the community feel. Luckily, I get that through my job and the good friends I've made here.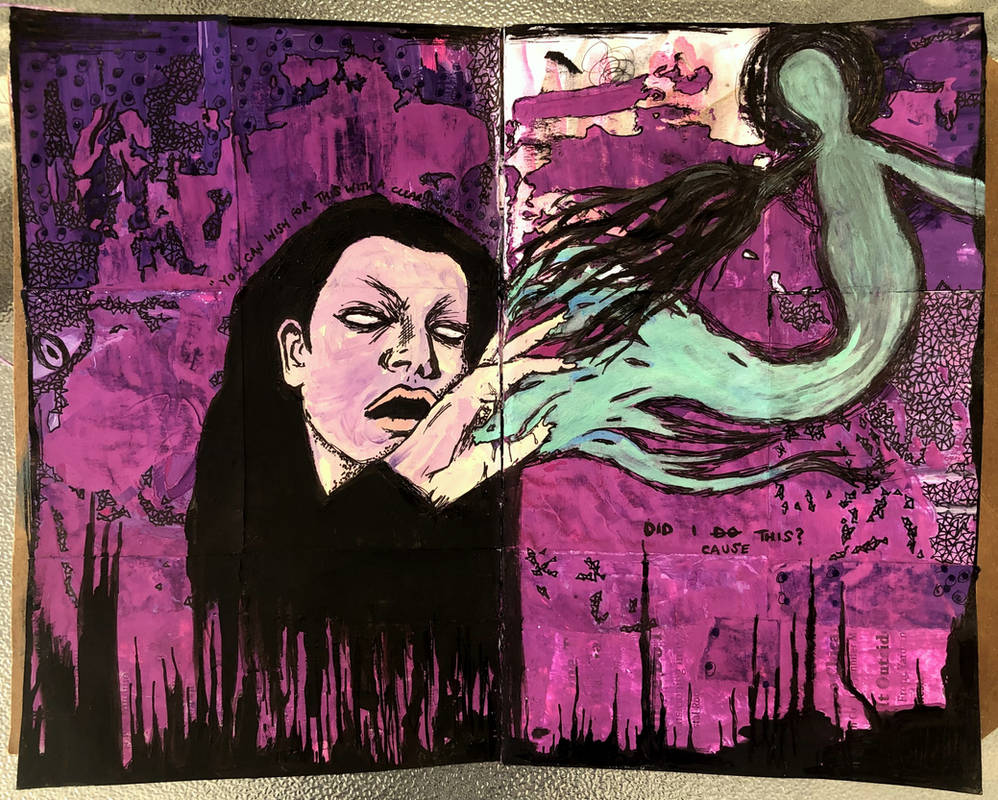 Let us go back to your art. You use inscriptions a lot. Are you inspired by comics for example?
The inscriptions are more inspired by traditional journaling than comics, I'm not much of a comic reader. Sometimes I will write about how I'm feeling and use that writing as an added "hidden journal" layer underneath the art. You will sometimes see that a word or sentence from the layer will appear through the art. I may also choose to amplify words by making them bigger or more stylized on the page. A lot of the time the words I use are lyrics from bands I enjoy. Music is one of my biggest inspirations.
I did not recognize a single song from your inscriptions. No The Beatles, The Doors, Nick Cave or anything I know. What are your favourite bands and how does the inspiration from music materialize itself in your artwork?
This might be the most difficult question for me to answer! I am a huge music fan and my tastes are all over the map. Rock and metal (specifically hard rock, "stoner" rock, and doom metal) are my favorite genres. I would say I am more of a contemporary fan too, which is why there is a lack of bands such as The Beatles or The Doors! It's hard to list my favorite bands/artists because there are so many, but I'll list some of the ones that have featured heavily in my artwork over the years: Alice in Chains, Monster Magnet, Fiona Apple, Queens of the Stone Age, Mastodon, Mike Patton, Dax Riggs, Windhand, Ty Segall, Royal Thunder, Melissa Auf der Maur, Agalloch, Jex Thoth, Elysian Fields, SubRosa, Puscifer, Le Butcherettes, Ghost, Deap Vally, Greenleaf, The Offspring, and my husband's band, Shmoe. I listen to music all the time, so if there is a song that is speaking to the way that I'm feeling in the moment, it will usually end up in my journal in some way. Sometimes the lyrics feature predominantly in the artwork, sometimes the lyrics are hidden or very small among other parts of the page, or I attempt to draw the feeling I get from the song. I think it depends if the lyrics or the overall sound is resonating with me the most. Hopefully that makes sense!
Absolutely. Do you draw automatically or do you use some sketches?
I occasionally sketch out pages but it's more important to me to be expressive rather than accurate with my drawings, so even if I do sketch out the page, it will usually end up looking very different from the original sketch. I enjoy using acrylic paint and gouache in my pieces, mainly because it's easy for me to cover up mistakes with those mediums!
How do you recognize, that your page in a journal is finished and ready to share with your watchers?
Good question! I feel like it's such a cliché to say I just know when it's finished, but it's true. I just keep covering up the page and building on layers until it feels complete to me. I'm a perfectionist in my life in general but my art journals are the one place I can be loose and not care about "perfection". To throw in another cliché, it's all about the process rather than the result. If it expresses how I'm feeling at the time and whatever I'm feeling is out of my system, then it's done.
Do you plan to print your journals as books? Or do you maybe exhibit them somewhere? I forgot to ask if you plan to become a professional artist someday and leave your public occupation of an archivist…
I have dabbled with commissions, had my artwork appear in publications, and once had a piece in an art show, but I have no plans to try my luck as a professional artist. I don't think I'd know where to start or even if it would be possible for me to make a living as an artist. I also love being an archivist and I'm lucky enough to have a stable job at the moment. I'm just happy I have a creative outlet that I can occasionally make some money from!
If you like, you can choose a page of your journal and describe your thoughts and feelings in the process of creation. Also you can say something about the music which you linked with that particular page. Just to help the reader understand the creative processes behind your journals.
I think this page is a good one to discuss and it was made a while ago, so I don't mind talking about it a bit more in-depth – although I do like to leave my pages cryptic and the viewer can make their own mind up about what it means. The page was made after a particularly tough day. From what I remember, it started off as a sketch in red pencil of myself (you can still see the red pencil if you look closely, but I kept it because it reminded me of veins) and then I inked over it and added a different angle for a double-exposure effect. Above my head are words I said to my husband at the time; I obscured the words with acrylic paint because I didn't want the viewer to see exactly what was said. The next step was probably adding more of the background paint and covering over anything I'd written or doodled in the background. I liked the dark colors near my head and the light colors near my feet, so it ended up being kind of symbolic for the darkness being in my head but soon the light will creep back. I added doodles of closed crying eyes and I remember adding the female silhouette with the bright colors sort of reaching out and embracing me at the end. The page also features visible and hidden lyrics from the song I Hear Satan by Dax Riggs, which helped express how I was feeling at the time. It is definitely one of my looser pages where I didn't care too much about mistakes showing or the page looking sloppy, it was just to express a feeling in a window of time.
As people with mental health problems we will probably very much respond to your melancholy and injury topics. What do these topics mean to you?
That's an interesting question. Although I have no diagnosed mental health problems, I consider myself a very anxious and sensitive person, prone to overthinking and bouts of sadness. Art journaling and being able to express myself with no limits is really cathartic and has had such a positive impact on my mental well being. I have always dug deep to explore my own thoughts and feelings but channeling it into art journals allows me to process intense feelings and "dark" topics in a safe and productive way – which wasn't always the case.
Could you share with us some example of that? Which situation of your life you would previously solve in a destructive way and now it is being processed well only in realms of your art?
Basically, anything that involves amplified and intense feelings. I wish I had known about art journaling when I was going through the trials and tribulations of being a teenager! I feel like it would have helped me process being bullied, friendship drama, dealing with crushes and heartbreak, and general teen angst. I have been very thankful to have art as an outlet this year, I'm not sure how I would have coped without it.